| | |
| --- | --- |
| packaging | Fresh ground coffee; instant coffee; tea products |
| Capacity | 180--200 pcs/min |
| Filling system | Auger filler driven by servo motor |
| Filling accuracy | ±0.1g |
| Filling range | 5-20g |
| Sealing material | Pre-cut Lids |
| Each hopper volume | 10 L |
| Power | 7.5 KW |
| Voltage | 380 V,50/60 HZ, three phase |
| air consumption | ≥300 L/min |
| Compressed air supply | Dry compressed air, ≥6 Bar |
| Nitrogen consumption | ≥200 L/min |
| Weight | 600 Kg |
| Dimension | 3420 mm(L)X3300 mm(W)X2688 mm(H) |
| Delivery packaging | Wooden box |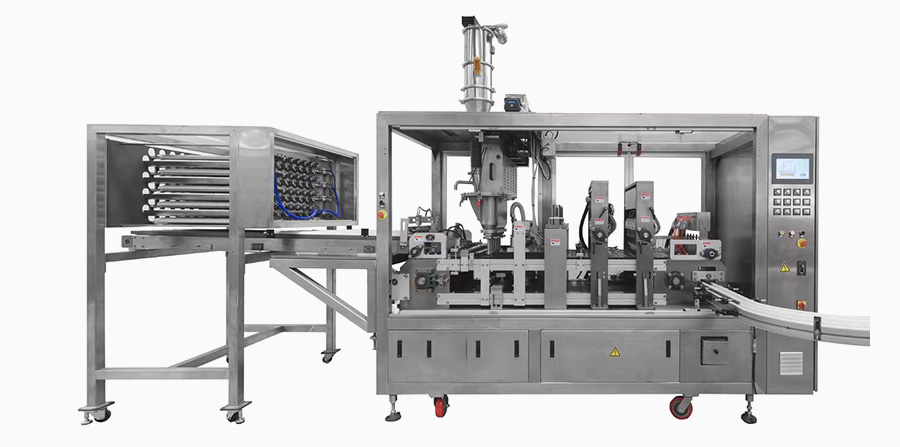 • All 304 stainless steel which contacts with food
• High strength and high precision chain wheel, gearbox, bearing and dividing box determine the fast, stable and accurate moving. 
• The high-quality pneumatic components make the air circuit of the machine run stably, the air pressure inside the machine is stable, and the air flow is even, which greatly avoids the failure, so as to greatly improve the production capacity and guarantee the service life of the machine.
• Electrical parts are from most famous brands (Schneider, Siemens, Allen-Bradley…)
• Capsule sorter and lifting and conveying system greatly save labor costs;
• UV sterilization system provides a good production environment ;
• Electromagnetic storm has largely solved the problem of static electricity in the process of powder packaging, resulting in the failure of packaging process;
• The peristaltic pump drop filling device is ready for adding liquid flavors in the capsule in the future;
• The second strengthen heat seal. It eliminates the risk of defective products entering the market, even if the first heat seal fails;
• The online weighing device feedback the data to the PLC in real time, identifies the defective products and automatically eliminates them;
• Discharging over-turning device prepares for the following packaging of the capsule, bagging or cartoning;
• Automatically counts the total capsules;
• Roll film cutting and sealing system: with high-precision fine tooth cylinder blade,  cutting and sealing at the same time,  0.1mm sealing deviation. With identification mark system, servo motor drives roll film expansion and dragging, with high precision.
• With nitrogen filling device, it creates a low-pressure environment, when nitrogen source pressure and flow rate meet the conditions, the residual of Oxygen less than2% in the capsule, so that the fresh coffee is sealed and wrapped by highly pure nitrogen;
• The remote control system, to a great extent, solves the problem of international PLC and HMI inconsistency of the software installed on the PC side, and the program update, inspection and backup of the machine can not be solved because of the network problems. Moreover, the customer can observe whether the parameter value of the machine is normal, the failure rate of the machine, the production efficiency and so on in real time every day, which are all through the mobile app can be achieved.
• Screw feeder and vacuum feeder, according to the choice of customers to configure the corresponding automatic replenishment system.
The accuracy of the filling system reaches 0.1g, thanks to our adoption of the PLC control system of the world famous brand and its servo motor package. The material and streamline design of the filling screw also determine the efficient and accurate performance of the filling system
SANEU is coffee capsule packaging equipment manufacturer located in Guangzhou, China.
SANEU's business covers 30 countries and regions, 60% business from customers' recommendation. Our distributors located around the world can provide local service quickly.
If you have some problems about Auto Filling Machine, or want to know more details about Auto Filling Machine manufacturers, k cup filling sealing machine, k cup packaging machine, etc. Welcome to contact us!